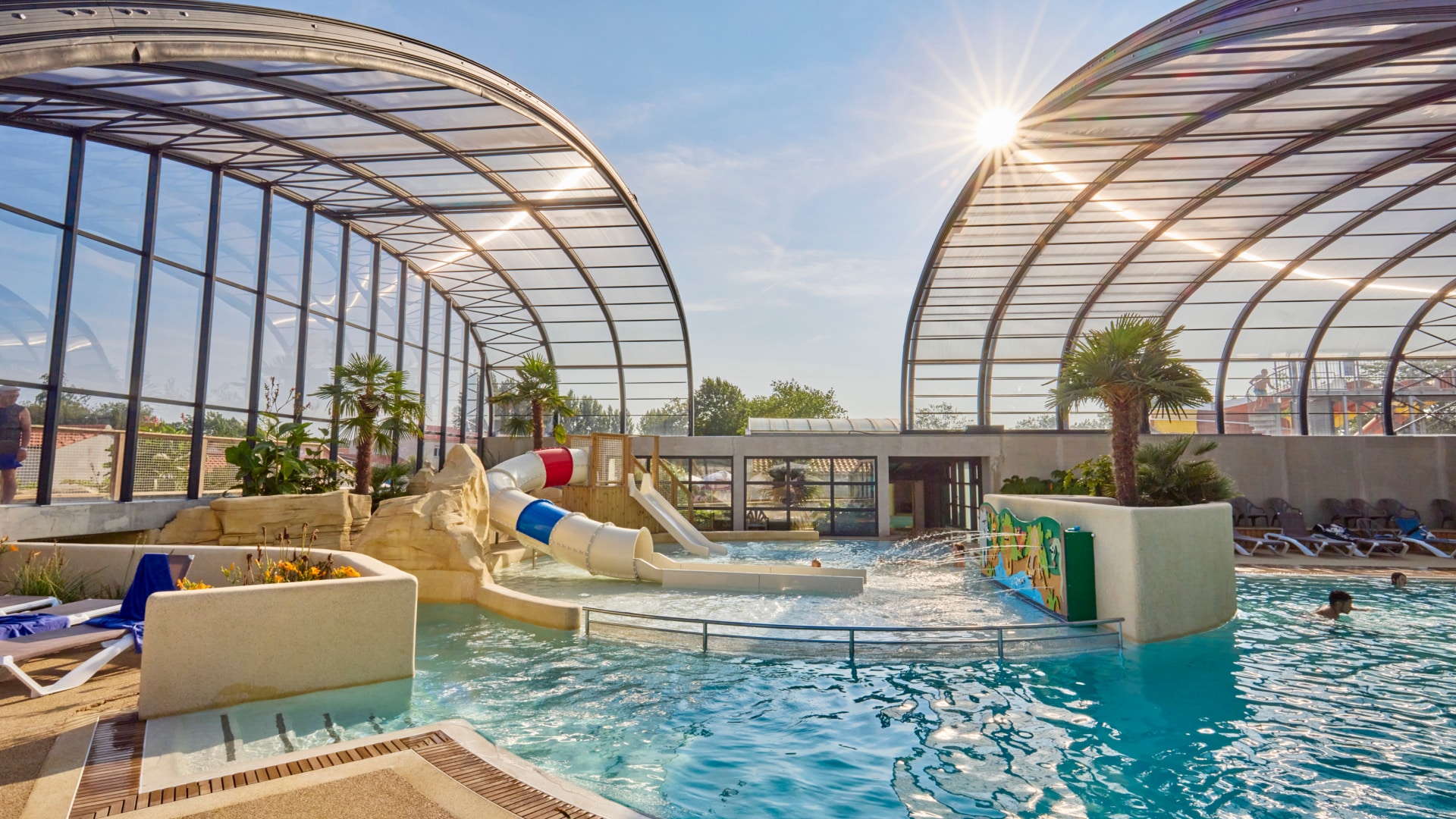 Tourism around the Jard sports activities, cultural heritage, tourist sites…
O'Fun Park
Did you know thatO'Fun Park is the largest leisure park in the Vendée? This park near the Jard campsite welcomes you for an unforgettable day out with family and friends. Discover this unique leisure park, accessible to all.
What is O'Fun Park?
The O'Fun Park is located in Moutiers-les-Mauxfaits in the Vendée (85), near the beaches of the Côte des Lumières and close to the Jard campsite in La Tranche-sur-Mer.
This amusement park is accessible to everyone, whatever your age and whatever your desires. The park offers an incredible number of activities in the water, in the trees, in the air or on the ground. Some are accessible from the age of 2. These activities are spread over 6 zones, so you can experience all kinds of adventures at O'Fun Park.
To make the most of your day, the amusement park also has a food and beverage area, so you can recharge your batteries after all that excitement.
What to do at O'Fun Park
Discover the many activities available at the park with family and friends.
Tree climbing course
Move from tree to tree in the heart of a superb forest of centuries-old oaks. O'Fun Park offers 20 climbing courses. Whether you're a beginner or a professional climber, you'll find a course to suit you.
Fun zone
Games of skill, strength, balance or speed, anything goes at the Fun Zone. On this playground, the little ones can also meet up at the Débrouillard kids and the older ones at the Funny Ville, dedicated to pedal go-karts.
Water Jump
Take to the water for incredible jumps and slides on a towed buoy, on your belly, on rollerblades or on a bodyboard. No matter how you do it, you'll have maximum fun.
The Duel Arena
Put your team together and tackle the 10 challenges that await you. Rival your energy, skill and team spirit to win the challenges. Experience the wildest moments of your life!
Paint ball
In the heart of a fully landscaped forest, enjoy a game of Paint Ball you'll remember for a long time. Equipped with your automatic launcher, be quick and cool to win.
O'Fun Park must-sees
You'll experience a range of thrilling activities for unforgettable vacation memories: bungee jumping, a maxi zip line, a pendulum jump from a height of 18 m or a 7 m jump with a soft landing – the choice is yours!
Don't worry, there's plenty to do at O'Fun Park, including pony rides, mini-golf and a forest treasure hunt.
Camping near O'Fun Park
Camping du Jard is located on the Vendée coast at La Tranche-sur-Mer near the O'Fun Park. This family campsite by the sea is ideal for enjoying the region's tourist attractions (beaches, forests, marshes, etc.).
After a day at O'Fun Park, you'll no doubt enjoy returning to your comfortable mobile home in the Vendée at the La Tranche-sur-Mer campsite, or to one of the dedicated pitches for your tent, motorhome or caravan.
This 4-star campsite, a true paradise for campers, boasts an exceptional setting in a 15-hectare wooded park on the seafront.
The campers-only water park features a heated indoor pool, paddling pool and slides for family fun.
Camping du Jard (85 ) also offers a wide range of activities and entertainment (kids' club, teenagers' club, karaoke evenings, family Olympics, etc.).
Stay at a campsite near O'Fun Park for a sensational vacation in the Vendée.